The prestigious area of Mayfair is synonymous worldwide as the monopoly board's most expensive address. There's good reason for this and it remains the destination of choice for some of the world's wealthiest individuals, investors and office occupiers. The name derives from the annual May Fair that took place in the area that is now known as Shepherd's Market. The fair was moved to Bow in 1764 because the well-to-do residents of the area felt the fair 'lowered the tone' of the neighbourhood.
Most of the area was first developed between the mid 17th and 18th centuries as a fashionable residential district by a number of landlords, the most important being the Dukes of Westminster, the Grosvenor family. The freehold ownership of another large section of Mayfair belongs to the Crown Estate.
---
The district is now mainly commercial and includes major corporate headquarter offices, a concentration of hedge funds, real estate businesses and many different embassies. The huge US embassy occupies the entire west side of Grosvenor Square, although this is due to move to Nine Elms in 2016.
The world famous Bond Street runs north to south through the centre of Mayfair and attracts some of the most prestigious retailers (and wealthy shoppers) in the world. Office rents are among the highest in the world, with the top buildings demanding over £100 per sq ft. While the hedge funds no longer lead the demand, supply is always limited and vacancy rates remain low.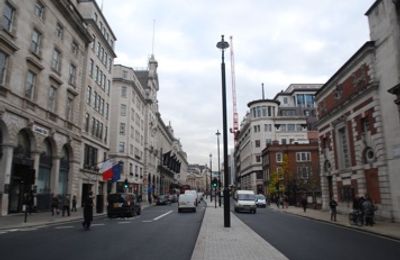 ---
When searching monmouthdean.com for office space to let in Mayfair you will see various sizes and price ranges to accommodate your needs, ranging from cheap to high end offices in Mayfair which can both be easily found. There is long term and temporary Mayfair Office space so just ask any members of our team if you are unsure.We can also assist if you are looking for a virtual office in Mayfair, or serviced offices.
Below is our current selection of available office spaces to let in Mayfair or in close proximity.
---
View our properties in Mayfair :
NEW INSTRUCTION

1,086 - 3,617 sq ft

The building is situated on the south side of Grosvenor Street, close to its junction with Davies Street in one of London's most sought after locations, Mayfair.Bond Street (Central and Elizabeth lines), Green ...

shortlist

view