Bloomsbury's recorded history dates back as far as the Doomsday Book (1086), which mentions that the area had vineyards and "wood for 100 pigs", but the name actual name of Bloomsbury didn't appear until 1201 when the area was acquired by a Norman land owner called William de Blemond.
The area is now known for containing some of London's finest period buildings and formal garden squares. The British Museum and Great Ormond Street Hospital are two well know local institutions and the area is home to many of the different facilities of University College London.
---
Did you know that if you take a wander along the eastern side of Gower Street you're strolling above millions of mosquitoes? This is because the London School of Hygiene and Tropical Medicine breeds many different species of mosquito in an old coal bunker right beneath the road. Some of the strains have been here for decades. Find out more by clicking here
Bloomsbury's long association with the arts was most famously highlighted when the Bloomsbury Group, the most famous member being Virginia Woolf, regularly met in private homes in the area and the Pre Raphaelite Brotherhood was founded in 1848 in Gower Street.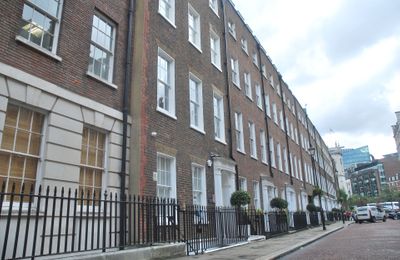 ---
So finding the right office to rent in Bloomsbury should be much easier. When searching monmouthdean.com for office space to let in Bloomsbury you will see various sizes and price ranges to accommodate your needs, ranging from cheap to high end offices in Bloomsbury which can both be easily found. There is long term and temporary Bloomsbury office space so just ask our members of our team if you are unsure. We can also assist if you are looking for a virtual office in Bloomsbury, or serviced offices.
Below is our current selection of available office spaces to let in Bloomsbury or in close proximity.
---
View our properties in Bloomsbury :
UNDER OFFER

8,075 - 22,963 sq ft

The top two floors at this landmark building provide stunning fully fitted office space with a substantial wrap around roof terrace on the 9th floors with views across Central London. The 8th and 9th floors hav...

shortlist

view