The City of London's boundaries (often referred to as The City or The Square Mile) have remained almost unchanged since the Middle Ages. The City today is Europe's major business and financial centre, is widely believed to be the world's leading centre of global finance and is home to most of the world's leading banks and financial institutions. Traditionally seen as an office location, recent years have seen an influx of other uses.
The area is now becoming a booming retail centre, with schemes such as New Change offering a mix of designer fashion brands, restaurants and cafes. The Tower Hill area has recently become home to some of London's newest hotels. One of the oldest parts of The City is Leadenhall Market, home to the world's' largest insurance companies.
---
The market dates back to the 14th century and has appeared in the Harry Potter films and formed part of the 2012 Olympic Games marathon course. The market is now a Grade II* Listed Building and home to numerous restaurants, pubs and retail outlets.
Did you know? The City is home to 108 Livery Companies, medieval organisations developed to regulate various trades, many of which still operating out of their own halls.
Did you know? The earliest documented recording of the 'left hand lane' driving rule was linked to London Bridge where drivers heading north were to drive on the west-side and those heading south on the east-side and would often take over an hour to cross due to congestion.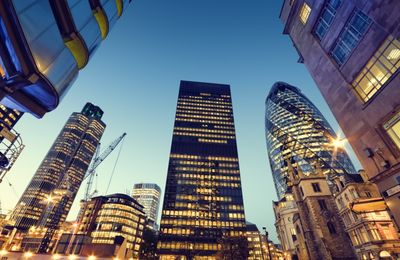 ---
When searching monmouthdean.com for office space to let in the City you will see various sizes and price ranges to accommodate your needs, ranging from cheap to high end offices in the City which can both be easily found. There is long term and temporary City office space so just ask our members of our team if you are unsure. We can also assist if you are looking for a virtual office in the City, or serviced offices.
Below is our current selection of available office spaces to let in the City or in close proximity.
---
View our properties in London City :